What do you do when your courageous transformation stalls? And the winds of change are blowing against you?
In 2013, most anyone who had a hand in real estate development was at an inflection point. For several turbulent years, the global economy was in a deep recession. In American real estate, no one knew when the economy would bounce back. South of Atlanta, the community of Serenbe was no different—it was poised to look ahead, resume their transformation, and unlock a new chapter of growth and stability.
re-igniting the transformation
One of the town founders asked if I would assist them in a strategic planning process for the Serenbe community. Having acquired the net zero Sugarberry cottage, I was enjoying the retreat from my work obligations and seeing what the community had to offer. At Vista Growth, we employ our Roadmap process for many corporate and consumer brands and we were interested in applying universally success brand management fundamentals to a "place". So we jumped in.
Our experience in strategic planning has taught us the value—the necessity—of engaging a meaningful coalition of people in the process. There are trade offs to this—it's messier and takes longer but the buy-in is faster and stronger. In fact, most planning participants are likely to invest time or money once they feel their voice has been heard and they have applied a thumbprint on the community. This is not a new thought, but it's challenging and requires extra effort to cast a wide net of influence. We gathered numerous residents, partners, investors, and prospects in our working sessions. This curated list of folks added tremendous value with fresh ideas, perspectives, and support. We channeled our thoughts and energies into four key themes—Development, Experience, Education, and Finance. Teams gathered around these themes and pushed to ignite specific agendas.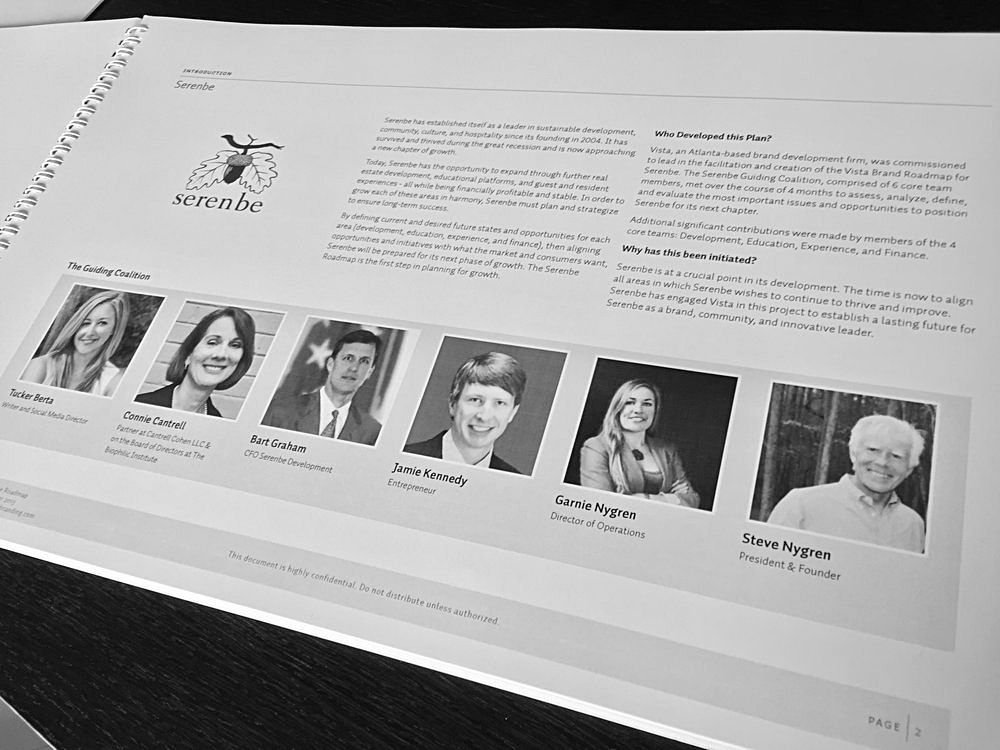 The purpose of the Roadmap was to plot a fresh course of thought and action by re-igniting initiatives that shook off the cobwebs of recession and set a runway for positive, planned and profitable growth. Serenbe already had a distinctive compass heading and was leading with many interesting concepts. It's original plan was still relevant, what was needed was fresh energy to activate agendas that were stymied by the recession. It needed to fight through some common challenges—a highly differentiated community, premium products out in the country, and mobility challenges to the city core.
Ultimately, the Roadmap process yielded 21 "recommendations", including the creation of a "day in the life" video narrative—later crafted beautifully by our good friends at 1504 (see video below). These recommendations were based on learnings and aspirations uncovered during the process. They were specific steps of action tethered to a well-vetted strategy. Over time, the Serenbe community activated these steps of action and firmly established a new era of growth—one that continues today.